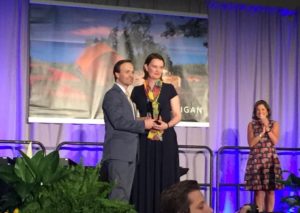 Buddy-to-Buddy Program Manager Kate Melcher was named the Michigan Governor's Council 2018 Veteran of the Year at a ceremony in Detroit on April 19, 2018. Other winners this year for Governor's Council awards included Senator Debbie Stabenow and Detroit Tigers great Al Kaline.
The Michigan Fitness Foundation, the Governor's Council on Physical Fitness, Health and Sports, and sponsorship partners present the annual Governor's Fitness Awards (GFAs) as a way of honoring individuals and organizations that inspire others to live healthier lives.
In her video profile as a finalist for the award, Kate said, "When it comes to health and fitness, it's not just physical fitness. Physical fitness is harder if you do not have mental and emotional fitness."
This commitment to the importance of mental health guides the work Kate does through the Buddy-to-Buddy Program, which is part of Military Support Program and Networks (M-SPAN), a collection of programs within the University of Michigan Depression Center for veterans, service members, and their families dedicated to mental health, wellness, and resilience.
Kate serves as the Program Manager for the Buddy-to-Buddy Program, which uses trained volunteer veteran peers to overcome the stigma around help seeking, decrease isolation, and enhance access to care and resources for Michigan service members and veterans.
Volunteer veterans help veterans and service members address issues ranging from accessing financial, employment, legal, benefit, or educational resources to identifying mental health providers for emotional, substance abuse, or relationship concerns.
As Buddy-to-Buddy Program Manager, Kate oversees all aspects of the program, including building and maintaining relationships with National Guard and military leadership, working with community and private sector partners, and supporting the volunteer corps.
Melcher served in the U.S. Army and attained the rank of Captain. She was a rated Apache helicopter pilot. She has spent her career in service, from a research position with the Supreme Court of the United States, to senior staff positions in the US Senate, to line company leadership and a tour as a Legislative Liaison Officer for the US Army National Guard.
Buddy-to-Buddy is proud to have Kate at the helm and grateful to our funders for their generous grants to the program. Current and past funders include Cinnaire, Craig and Sue Sincock, and the Avfuel Corporation, The Ethel and James Flinn Foundation, The Judy and Fred Wilpon Family Foundation, Major League Baseball Charities, Michigan Department of Health and Human Services, The Milbank Foundation, The Robert R. McCormick Foundation, and Welcome Back Veterans. Their commitments have had a significant impact on our ability to develop, enhance, and sustain our program.