Kate Melcher, BA
Program Manager
View BioLess

Kate Melcher is the Buddy-to-Buddy Program Manager. In this capacity, she oversees all aspects of the program, including building and maintaining relationships with National Guard and military leadership, working with community and private sector partners, and supporting the volunteer corps. Ms. Melcher served in both the Pennsylvania and Mississippi Army National Guard and attained the rank of Captain. She is a rated Apache helicopter pilot. She has spent her career in service, from a research position with the Supreme Court of the United States, to senior staff positions in the US Senate, to line company leadership and a tour as a Legislative Liaison Officer for the US Army National Guard. Ms. Melcher is a seasoned military, non-profit, and private sector professional with experience in program management. She was most recently the Executive Director of Fisher House Michigan where she served as the face and voice of the organization, responsible for raising funds to bring the first Fisher House to Michigan.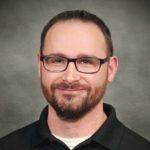 Adam Jando, LMSW
Program Social Worker
View BioLess

Adam Jando is the Buddy-to-Buddy Program Social Worker. He supports the Volunteer corps through coaching on effective communication strategies, facilitating weekly support calls, serving as the program's primary point of contact for mental health issues and emergencies that may arise, and ensuring volunteers are practicing self-care. Adam served as a combat Infantryman in the Michigan Army National Guard for six years, deploying to Iraq and Afghanistan. Prior to joining the Buddy-to-Buddy team, Adam was an Outpatient Therapist at Integro, LLC, where he managed a caseload of over 45 clients, provided full diagnostic assessments and mental health services for adults and children, developed person-centered treatment plans, monitored treatment through progress notes, and coordinated care with various service providers to address barriers and ensure that clients received appropriate services. Adam has also worked in Mental Health Intensive Case Management at the VA Ann Arbor Healthcare System and for Michigan Medicine's Guest Assistance Program. Adam earned a Bachelor of Science in Social Work from Eastern Michigan University and a Master of Social Work from the University of Michigan.
Jamie Majer, BS
Volunteer Coordinator
View BioLess

Jamie Majer is the Volunteer Coordinator for Buddy-to-Buddy. She earned a Bachelor's of Science from Eastern Michigan University in Health Administration and is pursuing an MBA and Master's in Management from Walsh College. She previously worked as a medical receptionist and medical record keeper at military hospitals throughout the Southern U.S. and at Integrated Health Associates (IHA) in Ann Arbor. Many in her family have served in the military, including her Army veteran husband and Marine veteran mother. Ms. Majer is responsible for answering the program's 1-800 call-in line and working with other staff to coordinate the referrals to volunteers.