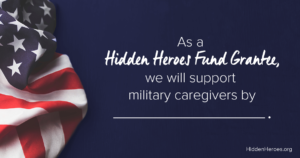 University of Michigan's Military Support Programs and Networks (M-SPAN) was awarded a grant from the Elizabeth Dole Foundation's Hidden Heroes Fund today, in support of its efforts to impact the lives of military and veteran caregivers through its Virtual HomeFront Strong program. M-SPAN is among thirteen organizations nationwide receiving funding for innovative and evidence-based programs that address the long-term needs of military caregivers, the spouses, parents, and loved ones caring for wounded, ill or injured service members and veterans at home.
"Through the Hidden Heroes Fund, the Elizabeth Dole Foundation continues to build a strong, nationwide network of support for America's military caregivers," announced Senator Elizabeth Dole, president of the Elizabeth Dole Foundation. "This year's recipients are some of the most respected organizations working on behalf of the veterans' community and caregivers, and together, they will help ensure our nation supports our hidden heroes for years to come."
M-SPAN is a collection of programs within the University of Michigan Depression Center and Department of Psychiatry dedicated to military and veteran mental health and wellness.  With the generous support from the Elizabeth Dole Foundation, M-SPAN will add Virtual HomeFront Strong to its portfolio of initiatives for caregivers. HomeFront Strong is an evidence-based resiliency intervention designed for military and veteran spouses/partners.  Funding from the Dole Foundation will support the first virtual delivery of the program specifically for caregivers.
"We are so excited to bring Virtual HomeFront Strong to caregivers of post-9/11 veterans across the country," said Dr. Michelle Kees, Associate Professor, Department of Psychiatry. "HomeFront Strong is a well-established resiliency program for military and veteran spouses, but this is our first opportunity to deliver the program virtually to caregivers – to bring the program directly to families via technology – and to support those who are caring for our country's wounded veterans."
For a full and detailed list of Elizabeth Dole Foundation's 2018 Hidden Heroes Fund Grant recipients, click here. If you are interested in interviewing Elizabeth Dole Foundation leadership or grant recipients, please contact Katie Haswell at KHaswell@susandavis.com or 202-414-0799.
About Elizabeth Dole Foundation
The Elizabeth Dole Foundation is the preeminent organization empowering, supporting, and honoring our nation's 5.5 million military caregivers – the spouses, parents, family members, and friends who care for America's wounded, ill or injured veterans at home. Founded by Senator Elizabeth Dole in 2012, the Foundation adopts a comprehensive approach in its support and advocacy, working with leaders in the public, private, nonprofit, and faith communities to recognize military caregivers' service and promote their well-being. Learn more about the Elizabeth Dole Foundation at www.elizabethdolefoundation.org.
 The Hidden Heroes Campaign, an initiative of the Elizabeth Dole Foundation, brings vital attention to the untold stories of military caregivers and provides a safe, secure place where caregivers can meet and access carefully vetted resources at HiddenHeroes.org. Another aspect of the Campaign, Hidden Heroes Cities, is an effort to galvanize local leaders across America to identify military caregivers in their communities and the local resources to support them. To date more than 114 cities from San Antonio to New York, from Washington, DC to San Diego have signed on. Learn more about Hidden Heroes at www.hiddenheroes.org.