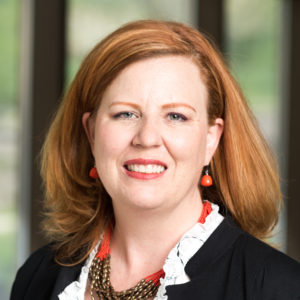 M-SPAN's Jennifer Lamb, LMSW, MS, has been appointed to the Michigan Women Veterans Advisory Board by the State of Michigan's Michigan Veterans Affairs Agency. Ms. Lamb is the HomeFront Strong Program Manager and an After Her Service Program Trainer at M-SPAN.
Representing the more than 44,000 women veterans in Michigan, in this role Ms. Lamb will advise the Michigan Veterans Affairs Agency on matters relating to women veterans, such as economic opportunity and career advancement. Her three-year term on the board begins on July 9, 2018 and ends July 9, 2021.
Ms. Lamb oversees the HomeFront Strong Program, including building and maintaining state-wide partnerships, training community clinicians in the HomeFront Strong model, supervising delivery of the HomeFront Strong intervention, and overseeing participant recruitment and program evaluation metrics.
As a Trainer for the After Her Service Program, she was part of the program planning team and co-lead sessions in the After Her Service curriculum during the program's weekend retreats.
Prior to her time at M-SPAN, Ms. Lamb served as a clinical social worker at the University of Michigan providing clinical services to adults and children. Ms. Lamb earned her Bachelor's degree from the University of Central Oklahoma. She holds a Master's in Social Work from Loyola University Chicago and a Master's in Child Development from the Erikson Institute.
Ms. Lamb hails from a multigenerational military-serving family. She served in the Marine Corps both as an enlisted Marine and as a commissioned officer, and is also married to a Marine.