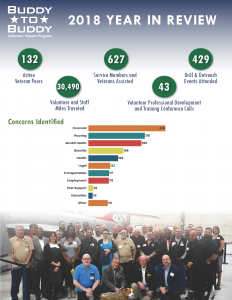 The Buddy-to-Buddy 2018 Year in Review report is ready! Many thanks to the outstanding volunteer veterans who are the heart and soul of the program and who made 2018 an outstanding year. Highlights from the report:
132 Active Veteran Peers
627 Service Members and Veterans assisted
429 Outreach events attended
30,490 Volunteer and staff miles traveled
43 Volunteer professional development and training calls
36% of volunteers served during the Post-9/11 era, 12% during Peacetime, 24% during the Gulf War era, 26% during the Vietnam era, and 1% during the Korean War era
59% of volunteers served in the Army, 21% in the Navy, 10% in the Marine Corps, and 10% in the Air Force
83% of volunteers are male, 17% are female
Buddy-to-Buddy volunteers served an average of 9.1 years in the military, and have been volunteers with the program for an average of 3.4 years.