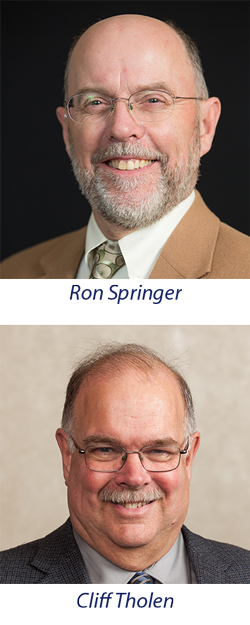 Thanks to Buddy-to-Buddy volunteers Ron Springer and Cliff Tholen, an Army soldier was able to find a new, better job that accommodated their military responsibilities.
The service member connected with Ron because he'd been attending drill at their armory and had become a trusted resource there. Through their conversations Ron learned that the service member's employer was unwilling to approve schedule changes that would allow them to keep working the same number of hours and still attend drill.
"This is one of those soldiers that you want on your team," Ron said. "You can tell by being around this soldier's unit, that this soldier is respected. I wanted to make sure this soldier was taken care of and that we could find a job for them that worked with the National Guard
training schedule."
Ron, an Army veteran, got the ball rolling and provided the soldier with resources to begin the job search and enlisted Cliff, also an Army veteran, for further assistance.
"I retired about 7 or 8 years ago," Cliff said. "But during my career I'd hired many people and had some insights into what employers were looking for on résumés. So I gave this soldier some tips for presenting skills and experiences in a way that would make them marketable."
Like many Buddy-to-Buddy volunteers who served in the Vietnam War, Ron and Cliff are both determined to help younger generations of service members and veterans in a way they weren't helped themselves.
In the end, the soldier was able to find new employment with schedule flexibility and they recently said they "loved their new job." While both Ron and Cliff are quick to point out that this soldier's work ethic and skills got them the job, it was their support and willingness to listen that provided the catalyst for this to happen.
"I joined B2B to help our vets, our soldiers," Cliff said. "I'm very gratified to know that I was able to make a difference. That's the mission of the organization, and to be part of that mission and to have a positive impact on that soldier's life, I think it means they'll be open to recommending B2B to others who are in similar situations."
Ron shares the same sentiments:
"I was happy to be able to help that soldier. And when that happens, it spreads. When you actually follow-through and keep checking on a soldier and they get the desired result, that word spreads, and it spreads faster than an official memo or anything else. It's because they said, 'He helped me.'"
Buddy-to-Buddy is fortunate to have Ron and Cliff on the team!