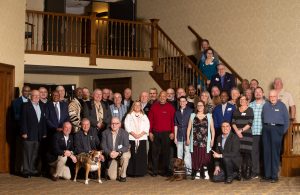 M-SPAN hosted the annual Buddy-to-Buddy Program Volunteer Recognition Event on April 13, 2019 at the Doherty Hotel in Clare, MI. Program volunteers from around the state were recognized and celebrated for their work in support of fellow service members and veterans.
CH (MAJ) Paul Lepley, Michigan National Guard Deputy Support Chaplain / Strong Bonds Action Officer, gave the keynote address and helped present certificates of recognition to the volunteers in attendance.
M-SPAN and Buddy-to-Buddy thank 211 Northeast and Comerica Bank for sponsoring the event.