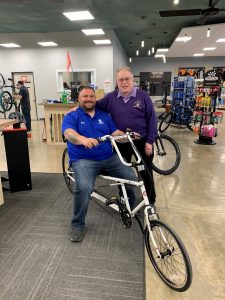 Thanks to Buddy-to-Buddy volunteer Fred Honerkamp, a disabled veteran can now exercise easily and spend more time with his young daughter.
Fred and Adam Morton forged a friendship and mutual trust over text messages, bonding as they shared stories from their respective combat experiences. Even though they'd fought in different wars, Fred's in Vietnam and Adam's in Iraq, they both knew what it was like to deal with the physical and mental after effects of battles fought years ago.
"Having another vet that's been through the same life-threatening events as you have is really important," Fred said. "We have the built-in trust that a stranger doesn't have."
When Adam mentioned how much he'd enjoyed trying a recumbent bike at a veterans retreat, Fred had an idea. Though recumbent bikes cost thousands of dollars, Fred was able to find an affordable used one online and then even got the seller to reduce the price once he explained the circumstances.
Fred then reached out to the Fallen and Wounded Soldiers Fund, and that organization agreed to provide a grant to cover the cost of the bike. Since the bike was used and needed some work, Fred contacted Ray's Bike Shop in Midland, asking if they'd fix it up. Ray's worked on the bike and made it like new, and next Fred scheduled a time for Adam to meet him at the shop to pick up the bike.
Adam was thrilled to ride his new bike for the first time. But knowing that Adam was a full-time stay-at-home father to a young daughter, Fred wondered if he could get a special trailer attachment for the bike. That way, Adam would be able to take his daughter with him on rides.
Fred spoke with the folks at the bike shop and they ordered the special trailer to attach to Adam's recumbent bike. Fred then reached out to Kiwanis, one of the many organizations he's involved in, and asked the state president if the two clubs nearest to Adam would cover the costs of the trailer. Kiwanis said yes, and Adam was even more excited than before about the bike now that he could use it to spend more time with his daughter.
A few months later, Fred is pleased to share that he and Adam still communicate regularly and that Adam is enjoying his recumbent bike and trailer. Not only was Fred able to build trust with Adam, but when he thought of a way to help Adam improve his quality of life, he did exactly what all Buddy-to-Buddy volunteers are trained to do and reached out to multiple resources to help.
Fantastic job, Fred!