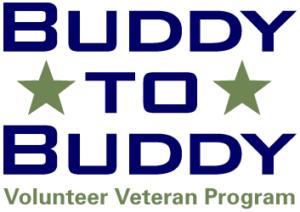 Important Announcement
Effective January 3, 2020, the Buddy-to-Buddy Program is no longer operating under the University of Michigan auspices. We will not be able to take any new referrals moving forward. The Buddy-to-Buddy program staff is in discussions with the leadership of the Michigan Veterans Affairs Agency to incorporate many of the program elements into their expanding outreach and engagement activities.
If you are a Michigan service member or veteran seeking assistance, please call 1-800-MICH-VET for assistance. They will be able to help or will direct you to the appropriate resource.
If you are a veteran in emotional distress or thinking about suicide, call the National Suicide Prevention Hotline at (800) 273-TALK (8255) and press 1 for veterans.
If you or someone you know is currently in the act of harming him/herself and/or in immediate need of medical attention, call 911 immediately.
For more than 10 years, Buddy-to-Buddy Volunteer Veterans assisted over 6,000 Michigan service members and veterans with issues including mental health, financial, employment, housing/homelessness, and access to VA benefits and claims. It has been a privilege to do this work. The Buddy-to-Buddy Program and the Military Support Programs and Networks (M-SPAN) team thanks the hundreds of Volunteer Veterans who have powered the program for these many years and who have worked tirelessly to improve the lives of fellow veterans. It has been an honor to work with this group of amazing volunteers.  
We sincerely apologize for any inconvenience the suspension of the program may cause.
The Buddy-to-Buddy Team