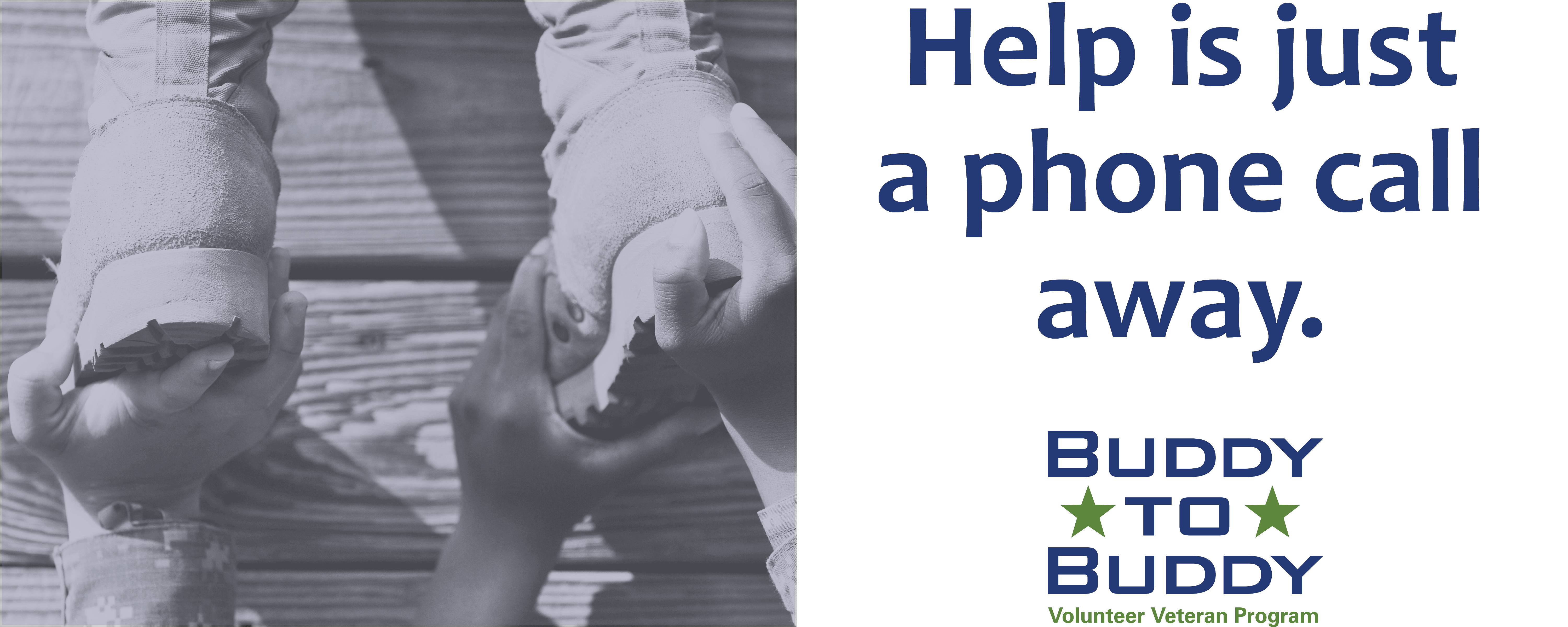 To be connected with a Volunteer Veteran, or to make a referral for someone else, call 1-888-82-BUDDY (822-8339) or click here. Volunteer Veterans are trained to help you address issues ranging from accessing financial, employment, legal, benefit, or educational resources to identifying mental health providers for emotional, substance abuse, or relationship concerns. This service is confidential and there is no charge. We will return your call or email within 24 hours except on weekends when you will receive a call by the end of the next business day. For more information, please review our FAQs about getting assistance below.
The Buddy-to-Buddy Volunteer Veteran Program cannot provide an immediate response in an emergency. For immediate assistance, please use the following as a guide:
If you or someone you know is currently in the act of harming him/herself and/or in immediate need of medical attention, call 911 immediately.
If you are a veteran in emotional distress or thinking about suicide, call the National Suicide Prevention Hotline at (800) 273-TALK (8255) and press 1 for veterans.
FAQs About Getting AssistanceClose
FAQs
Is there a fee to get help from the program?
No. The program is completely free.
What can a Volunteer Veteran do for me?
Our Volunteer Veterans are trained in local, state, and federal resources available to service members and veterans. Volunteer Veterans can guide you through the difficult process of identifying, reaching out to, and following-up with a resource or service that can address concerns you have, they can also provide a listening ear and support along the way.
What kind of situations can a Volunteer Veteran help me with?
Volunteer Veterans can assist you in finding resources for problems relating to education, employment, finances, benefit claims, legal matters, medical issues, mental health, substance abuse, relationship issues, and any other identified needs.
I don't live in Michigan. Can I receive assistance from the program?
Unfortunately, resources vary from state to state, and our expertise is built on years of researching and connecting with Michigan resources. We advise that you contact your local County Veteran Service Officer to find out more about resources near you.
Do I have to be a National Guard soldier to receive assistance?
No. The program will assist any service member or veteran in Michigan.
I am a MIARNG soldier and want to be connected with a Volunteer Veteran. Will what I say to them get back to my chain of command?
No. What you share with a Volunteer Veteran is completely confidential and your conversation is in no way reported to your chain of command without your permission. The only exceptions are in emergencies such as suicidal or homicidal ideation and suspected child abuse.
I am a veteran and would like to be connected with a Volunteer Veteran. Do I have to provide my DD214 to receive help from the program? Do I need to have an honorable or other-than-dishonorable discharge in order to receive assistance from the program?
No. The program does not look at any kind of military record for those we assist. We will assist any Michigan veteran regardless of discharge status.
Does the program offer assistance to family members (spouses, parents, children) of veterans?
The program is focused on assisting the service members and veterans themselves, however, other M-SPAN Programs are focused on helping military families. Please visit www.m-span.org for information on our child and family programs.