Parenting across the deployment cycle raises special challenges for military families with young children. The Strong Military Families program provides a 10-week parent and child program experience designed to support and enhance the resilience of military families by creating opportunities for families to come together and learn, support one another, and grow in their ability to navigate the unique challenges that they face. The program is designed specifically for families with a child under the age of 8 years old and at least one parent who is a service member or veteran with a deployment history (including both Active Duty or Guard/ Reserves).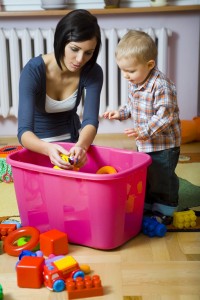 The Strong Military Families Program can be delivered in one of two formats:
Multi-Family: a 10-week group with other families where a meal and childcare are provided.
Home-Based: a 10-week program that delivers written informational materials via mail.
The Home-Based option of the program is available to military families located anywhere in the state of Michigan. Locations for the Multi-Family group option may be available in the future. For more information, contact strongfamilies@umich.edu or (734) 615-3579.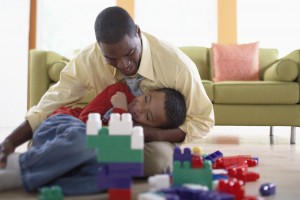 Children's Group Goals
Connect with other military children
Learn age-appropriate coping skills
Engage in crafts and games tailored to each age group
Play and build a relationship with their very own buddy – a trained volunteer who provides care and fun activities
Parent Group Goals
Strengthen your child's resilience
Connect with other military families
Grow together as a family
Learn and practice strategies to take care of yourself
Learn about local resources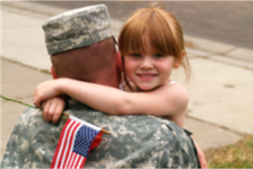 "I know without the programs I wouldn't have the relationship
that I now have with my kids. There's nothing out there like
it where you go for help and to become stronger as a family.
-Michigan Army National Guard Veteran and Strong Military Families Graduate
"My daughter loves spending time with her buddy and the other kids."
-Army Reserve Spouse and Strong Military Families Graduate
Strong Military Families groups are not currently being offered through M-SPAN at the University of Michigan. However, to learn more about the program, please visit zerotothrive.org, email strongfamilies@umich.edu, or call us at (734) 998-0089.