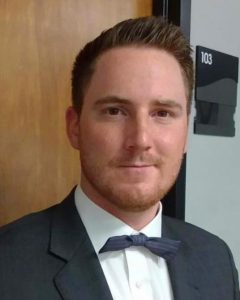 Clayton 'Riley' Jones of Wichita State University is our Team Leader of the Month! Riley has served as a Radio Operator in the Air National Guard for the past seven years and is in his final year studying Business Management, with course work for a minor in Sociology already completed. Ciaban Peterson, Riley's Co-Team Leader, nominated him: "Riley has taken his requirements, recommendations, and leadership to create direction and strategy for this new semester. He has used his past experience as a Peer Advisor to understand what the team needs to succeed as well as followed up with leaders on advising and keeping stakeholders informed."
It's clear in speaking with Riley that his warm, easygoing personality makes it easy for others to open up to him, and this comes in especially handy with his work as a Team Leader. "I feel that nothing quite trumps being approachable and available, having conversations with people face-to-face, and being able to answer questions," he says. Riley credits Ciaban and Peer Advisor Michael Bearth for setting an excellent example of professionalism and mentorship for him, and describes how, in turn, he's paid that good will forward to other student veterans.
What he's found to be most rewarding as a Team Leader is "the success stories like a student telling me about getting a job, or having a tough period with a student and then having them come back and say that things are going better for them." Additionally, he feels that he's also benefitting from the role because it's giving him real-world, hands-on management experience. We're so glad to have you with PAVE, Riley!