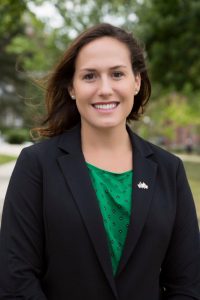 Katy Quartaro of Syracuse University is our Team Leader of the Month! Katy, a New York native, served in the United States Marine Corps for 8 years and wrapped up her time in service as a criminal investigator with the Marine Corps Criminal Investigation Division. Katy's time in service helped guide her to her current academic path, as she will be graduating this December with bachelor's degrees in forensic science and psychology. After that she will begin an executive master's program in public administration in January 2019.
Katy's desire to pay it forward drew her to be a part of PAVE. She and her team have been able to positively impact student veterans at Syracuse University by not only helping to find housing for those in need, but also by looking at success from a different perspective and understanding both the needs of her team and those of the student veterans on campus.
"Some people think that to help you have to be on a big platform and do all these grand things," Katy says. "But I think that PAVE is one of those rarities where you don't have to do a ton to be really helpful and make a huge impact on somebody as they are transitioning into higher education."
Katy's diligence as not only a Team Leader, but also as a student is a hallmark of an outstanding Team Leader. Upon completion of her graduate degree, Katy hopes to work with the U.S. government in the area of counter terrorism. We are proud to have you be part of the PAVE family, Katy!