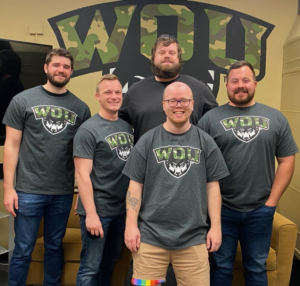 Western Oregon University is this month's Featured Campus! "The PAVE Team at WOU has come back strong! Most of the team members are new to PAVE, so they are re-building from the ground up, but with a great energy. Aside from the standard student veteran welcome events, they held a Super Smash Bros. Tournament during Welcome Week and they are collaborating with the Stonewall Center on campus to host an LGBT panel as part of Veterans Week," says PAVE Program Coordinator Riva Szostkowski.

WOU's current PAVE team includes Peer Advisors Allen Nickelson, Jake Sutherby, and Taylor Litke, Team Leader Dennis Long, and Veteran Services Coordinator Logan Doerfler. They serve a community of about 105 student veterans and 35 military dependents.

For many newer student vets who started their studies while things were still virtual and remote, this return to in-person offerings is a welcome change. Allen was one such student: "When I started, it was kind of difficult just finding the resource because I was so new to everything." After he had an issue with his GI Bill benefits, he reached out to Jake, who was able to quickly help him. "That was the deciding point for me to want to join PAVE and give back and pay that forward, because of all the help I got from them," Allen adds. 

Now that in-person instruction and student support has returned, the WOU PAVE team has many opportunities to interact with the students they support. "With our events and communications, we've had a lot of veterans come in [to the veteran resource center] and socialize throughout the week," says Dennis. Taylor adds, "People really like to come to the office and ask for help. Some people seem to really like to spend time in-person."

Giving back to others is a recurring theme for the WOU team. "I was considering not doing PAVE this year because it's my final year of grad school and it's a very busy year, but it was just one of the things I couldn't let go of because I really like it and I just had to stick with PAVE. I'm trying to give back as much as I can to the student veteran population while I'm here," says Jake. 

Terrific work, WOU! Keep it up.