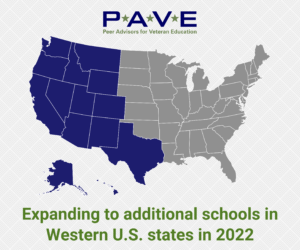 Thanks to a new grant from the May & Stanley Smith Charitable Trust, Peer Advisors for Veteran Education (PAVE) will be expanding the program to 12 additional colleges and universities in the Western U.S. this year. The grant will also continue to support the 29 schools who were recruited into the program through a previous grant from May & Stanley Smith Charitable Trust.
Schools not in the 14 Western U.S. states PAVE is expanding to through this grant are still eligible to apply for and launch the program on their campuses this year. A licensing fee will be required for any schools joining the program who are not covered by the grant detailed above.
The application for new schools to apply to become PAVE Partner Campuses will be opening later this month. For anyone interested in applying, please contact the PAVE National Team at pave.info@umich.edu.