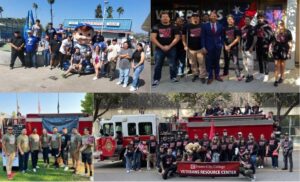 Oregon State University is our Featured Campus for January! "They've been doing a fantastic job of connecting their student veterans both to resources and each other. Their PAVE team started off the semester with a host of fun Veteran Resource Center (VRC) events for both new and returning student veterans and was able to maintain that outreach momentum for the rest of the term. Their team has reported strong team communication and engagement which has helped them further achieve their impressive levels of dedication and enthusiasm for supporting their student veterans," says Emma Czajka, PAVE Research Assistant.
Team Leader Chris Johnson and William Elfering, Military & VRC Director, work with their six Peer Advisors to serve their school's veteran and military-affiliated community of over 2,000 people, 1,600 of which are student veterans. They value inclusivity in the community, and as Peer Advisor Ray Sullivan puts it, "If you feel like you're a part of the community, you're a part of the community!"
Like many PAVE teams, the OSU team notes that getting people into the doors of their VRC is the hardest part of outreach, particularly post-COVID. But once people start coming in and seeing that "We're just former military people hanging out, normal people who just have something in common, they actually start showing up more," says Chris. Ray says that once people hear about all of the scholarships they provide them info on, and free services in their center such as free printing and support from veteran service organizations, they are sold and keep coming back in.
They are starting to see traffic in their center and interactions between their team and community return to pre-COVID levels. Chris says that this past fall term was super active and that many of the newer students who would normally stop being paired with a Peer Advisor after their first term or two requested continued support from them. William shares that the current team "is probably the most diverse one we've ever had." That diversity enables them to better serve their equally diverse military-affiliated community.
"PAVE filled a gap I was looking to fill," says William. "When I came across PAVE, I thought, 'they've got this down already, and I don't have to recreate the wheel!' It's more than filled that gap for us, especially as we are coming back from COVID—getting that connection with folks and helping build that community back faster and stronger than we would have otherwise."
Great job, Oregon State University! We're excited to see the things you do this term.