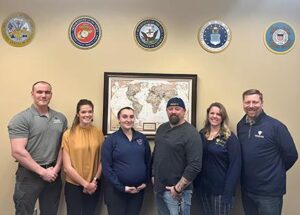 University of Toledo is our Featured Campus for March! "They've been doing an exceptional job with programming and events, like Green Zone training, to help support their student veterans on campus. The team's enthusiasm for finding and sharing resources both within their campus and with other PAVE partner campus teams exemplifies their commitment to creating a strong community and offering lots of support for their students," says Emma Czajka, PAVE Research Specialist.
The team consists of Stephen Elsworth (Team Leader), Eric Buetikofer (Director of Military and Veteran Affairs), Dana Bower (Coordinator of Military Service Center), and Peer Advisors Gretchen Van Wey, Mike Borgstahl, Matthew Barger, and Reagan Priest. They serve a community of around 250 student veterans and 100 military and veteran dependents. All of the Peer Advisors are VA Work Study students and also work in the UT Military Service Center, and most are also involved in UT's SVA chapter. This interconnectedness helps assure the veteran and military community at UT has robust and seamless support.
UT's PAVE team and Military Service Center have strong outreach and resource cultivation processes in place: Each new Peer Advisor has to make a minimum of three rounds of phone calls each academic year to the students assigned to them via PAVE. They are also tasked with visiting the various on- and off-campus resources so that they all know about them and how to connect fellow students to those resources when they need them. This helps them each become, as Eric describes it, "mini-experts" on all that UT and the surrounding community has to offer the students they serve.
And they're not just helping UT students. By becoming "mini-experts," they're also using their knowledge of resources and student and veteran processes to help veterans in the community, in some instances even helping other veterans become students at UT. "[PAVE]'s helped me share with veterans outside of UT. Sharing that knowledge, it helps you build a better path to the college experience," says Mike.
"Being able to connect with military students and see who they are, recognizing them on campus and being a friendly face to them… it's easy to build that connection with them to make them feel like this is a safe space for them that they know and are comfortable with," says Reagan.
"Coming out of being in the Army almost 20 years, I didn't know which way was up when coming to campus. Stephen was my Peer Advisor and he made me feel welcome and not alone. So I know personally that [PAVE]'s having a positive effect," shares Matthew.
Keep up the great work, UT PAVE team!