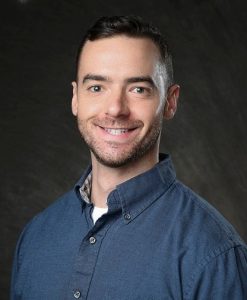 Matt Norris of the University of Southern Maine is our Peer Advisor of the Month! Matt, a Marine Corps veteran, proudly served for four years active duty in the infantry and continues to serve today as a Reservist. After a tour in Afghanistan and a brief stint in Okinawa, Japan, Matt found his way back to his home state of Maine. Currently, Matt is a senior majoring in leadership and organizational studies, with plans to graduate this coming May.
"The value that I find in my work with the veteran service office and with PAVE is the connection to the different people that are here. Not only veterans but also the faculty and staff as well. Any way that I can give back is the ultimate way to feel fulfilled, to do something for someone else… That's the ultimate goal and that's what PAVE does… It allows me to give back."
Matt's impact, on not only the PAVE program, but also the University of Southern Maine campus community, is evident to those around him. Matt's made significant contributions to ensure that the student veterans he interacts with are taken care of and made to feel a part of the veteran community.
"Matt is the heart and soul of our Veterans Services office, in addition to being an awesome Peer Advisor," said Veterans Services Coordinator Lorrie Spaulding. "Interactions with students isn't a transaction for Matt, it's an investment. Matt is fully committed to helping his fellow veterans, not just as a one and done, but teaching them what they need to know to be successful students, so that they can pay it forward with the veterans they encounter who are struggling."
You are doing great things, Matt, and we are happy to have you with PAVE!