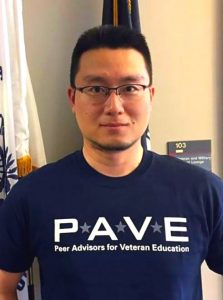 Frank Zhu of Rutgers University – New Brunswick is our Team Leader of the Month! Frank, a graduate student seeking his Master of Arts in political science with a concentration in the United Nations and Global Policy studies, will be graduating this semester and is considering the Peace Corps as part of his future plans. Prior to enrolling at Rutgers, Frank proudly served for four years in the Army and earned a bachelor's degree in political science from the University of Hawaii – Manoa.
The value of teamwork is expertly exemplified at Rutgers through Frank's leadership. By hosting dozens of events each semester, the team there helps to build consistent interaction and communication with the student veteran community as a central element to their success.
"Communication is key to making sure we succeed as a team," said Frank. "We make sure that we are emailing, texting and calling to ensure that Rutgers veterans are made aware of all the resources available to them."
While Frank is quick to give recognition to his entire team, his leadership role has been crucial for the program's success on his campus, particularly over the past year. Frank is always ready and willing to go the extra mile for those he is providing support for.
"He goes above and beyond with his responsibilities as a Team Leader and is a great source of support for his Peer Advisors," said Veteran Services Coordinator Urszula Echols. "Frank is a model student leader and an exceptional person. We are very lucky to have him as a part of the Rutgers PAVE Team!"
Thanks for all you do, Frank!